Zero waste
batteries are here.
The world's first carbon neutral, alkaline battery with a built-in recycling program and a zero landfill commitment. We wanted a Better Battery. When we couldn't find it, we made it!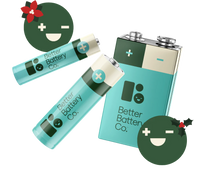 Better Battery Pack
Meet the world's
most positive batteries.
Our fully recyclable battery packs include enough batteries to keep you fully charged and your junk drawer tidy for months! Once your batteries are depleted simply visit our website, print your recycling label, and send them directly to our partners at Raw Materials Co. to be recycled! Feel good knowing you have done your part to ensure batteries do not end up in landfill! You can sit back and enjoy knowing that your batteries will find new uses in the world!
Benefits
Better Means...
Life is a balance of positives and negatives. Batteries too. We couldn't find a battery whose positives outweigh the negatives, so we went ahead and made our own. We built it to perform, to be fairly priced, and to be the first ever battery that's certified carbon neutral.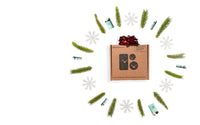 Ethos
No one really thinks about batteries,
Better Battery Co. was founded in October 2021 by sisters, and mothers – Jessica Jenkins and Jaclyn Byles. We are both committed to ensuring the best future possible for our gang of littles and subsequent generations. Quickly after becoming mothers, we noticed the ever-present need for batteries, a desire to streamline and simplify ways to ensure having household necessities (like batteries!) on hand and organized, and a sustainable way of disposing of depleted batteries. Together we envisioned and gave life to BBCo; a true family brand, a product of collaboration; and a simple and organized way to purchase, store, and recycle alkaline batteries.
Reviews
"I rip through batteries playing video games. This is probably the simplest switch to minimize the environmental impact of my consistently negative K/D ratio.

Buy this if you use batteries and care about the environment. No brainer.

ariboufunkadelic
"Thank you @betterbatteryco for doing the work you do and giving us a better way to power our things!"

Sydney Ferbrache, @divineontheroad
Power Up Your Recycling Game. Have you tried recycling batteries the right way? Because boy do I never want to go back to doing that again. With these you don't got to worry about the complicated process and guilt.

Khoa H.
"What's the perfect housewarming gift? Automatic screwdriver and batteries galore. Because you're going to be putting a lot of things together! This variety battery set is beautifully presented and includes all the batteries you'll need over the course of a move."

Erik G.
"Nice packaging, easy to use & understand instructions. Free return for paid refill too once batteries are used up."

Bullwinkle
"These batteries all tested well and have lasted a long time in my electronics. The packaging is very nice and offers great storage, and the ease of recycling is a substantially better method than what I was doing before. I will definitely be getting more."

Jay Tee
Free Shipping & Recycling
Check us out on Amazon
We are the world's 1st certified carbon neutral battery with a Climate Pledge Certification! Not only are our batteries sustainable for the environment, but are high quality, long lasting alkaline batteries designed for all of your everyday needs.
View Store
View Store